romance & cigarettes de john turturro. delicios. foarte colorat. nu ma-nnebunesc dupa musicaluri, dar n-aveam cum sa nu-i savurez pe james gandolfini, kate winslet, susan sarandon si steve buscemi intr-unul si acelasi film. kate e in acelasi timp fleshy & flashy, naturala & artificiala, carnala & vulgara. highlights: kate & james having noisy sex sau kate & susan having an even noisier fight intr-un magazin de lenjerie agent provocateur.
brick de rian johnson. premiat la sundance in 2005. angry, teenage gangsters make fabulous characters. asta e ceea ce s-ar numi un "not another teen movie". e vandut sub taglineul "a detective story", desi e mai mult de-atat. e filmat cu mare naturalete. imaginea e foarte curata, aproape sticlos de limpede. muzica e utilizata minimal, picura sporadic in urechi si, totusi, e disturbing. frumos de tot, nu seamana cu niciun alt teen movie / policier vazut de mine pana acum.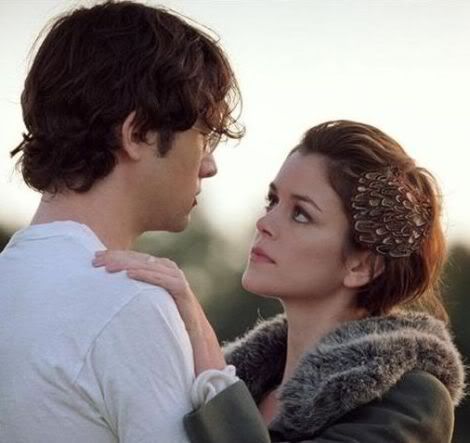 am mai vazut leaving las vegas, care m-a indispus profund din motive de probleme cu alcoolicii pe care le am eu. n-am putut nici sa empatizez cu personajele alea, intre care nu mi s-a parut a fi cine stie ce chimie si nici sa-mi fie mila de ele… cica ar fi trebuit sa-mi placa, e film mare, eu sunt mititica. well, tough.
the virgin suicides de sofia coppola, ecranizare dupa jeffrey eugenides - frumos, feminin, vaporos si sensibil. ca sofia.
samhain. uau. n-am mai vazut de multa vreme un film atat de catastrofal de prost. adica nu cred ca am vazut vreodata o asa carpeala care se vrea a fi film. din masochism, am vrut sa vad pana unde se merge si am rezistat pana la final. a, da, e cu chasey lain si jenna jameson. pentru fani. trecand peste monstruletii de cauciuc si carton pictat cu carioca, cadavrele de fetusi colcaind de ceva acuarele rosii, cadavrele de adulti sectionate transversal, instalate la mare arta intr-un protap, adulmecari de pungi cu silicon proaspat extrase pe viu sau strangulari cu intestine, cea mai draguta chestie e cartonul de final: "if you liked this movie, please consider buying the dvd when it comes out". pai, mai baieti, eu consider ca ar fi bine sa va apucati de comertul cu varza, de exemplu. e mai onest din partea voastra.
mi-a amintit de madhouse, vazut mai demult. si asta e prost, dar nu intr-atat incat sa devina amuzant. si macar iti permite sa faci putin pe detectivul.
ceea ce nu s-a putea spune despre fragile cu calista flocicart, care e slabut si previzibil rau de tot.
wolf creek. nimic nou in seria "filme de rahat bazate pe intamplari adevarate". mai bine o puneau de-un documentar pentru descopery.